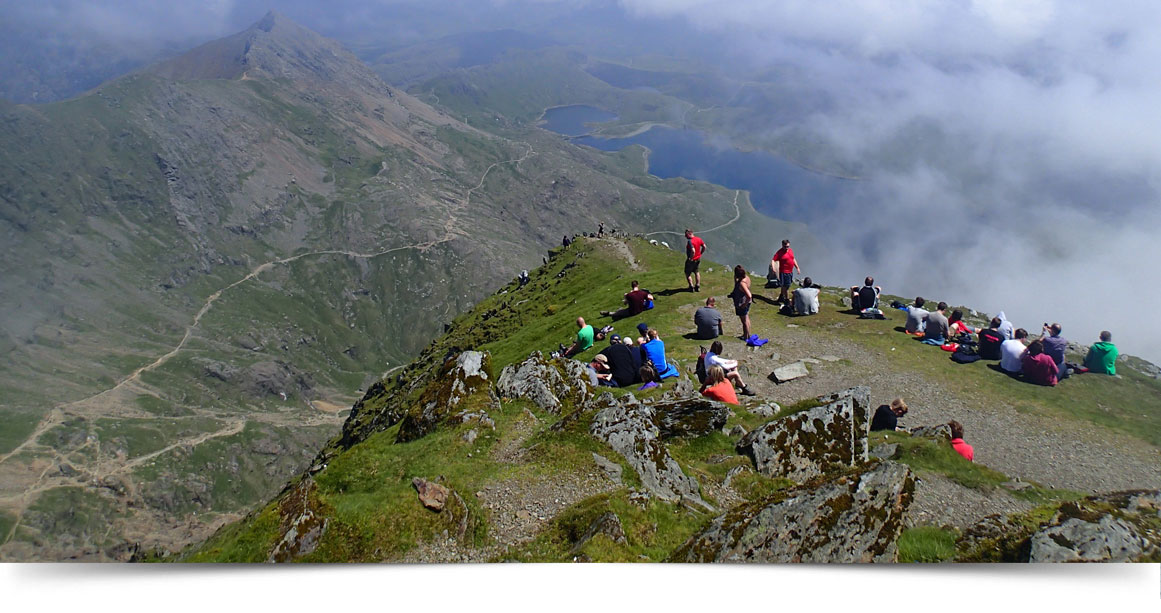 EMAIL: 
EASY SNOWDON TREKS
LLANBERIS PATH
DISTANCE: 14.5 km (9 miles)
HEIGHT GAIN: 975 metres (3,199 feet)
START: LLANBERIS
Brief Summary
This trek is fine for a complete novice with a reasonable degree of fitness as it is very easy going underfoot following a clearly defined path. As this is the longest path to the summit it also means it has a gradual steady height gain with no really steep sections.
Route Description
This trek starts by going past the Snowdon mountain railway station, during the whole of this trek we never go far from the railway track itself, and we trek up a tarmac path until we go left over a stile. The views now open up dramatically as we look across the valley to the Moel Eilio ridge line and Moel Cynghorion, we then walk steadily towards the imposing cliffs of Clogwyn Du`r Arddu which has some of the hardest climbs in Wales on its 700 foot vertical cliff faces. There is a faint path to the right which goes to these cliffs but we carry on along the main path rising steadily until we go through a small tunnel to be met with huge drops down into the Llanberis pass far below on our left .As we reach the upper slopes the Snowdon Ranger path comes in from the right and on the left is a 2 metre high upright stone (monalith) which marks the exit from the zig zags of the Pyg Track. It is then a nice and steady trek enabling us to enjoy the wonderful views to the summit.
---

SNOWDON RANGER PATH
DISTANCE: 12 km (7 miles
HEIGHT GAIN: 936 Metres (3,071 feet
START: LLYN CWELLYN CAR PARK
Brief Summary
This trek starts on the southern side of Snowdon which means it is a very quiet route, slightly steeper in sections than the Llanberis path but still well within most people's capabilities with a reasonable degree of fitness. This trek is ideal for anyone who is wary of heights as most of the height gain is achieved going up a very wide ridge which keeps us far away from any drops until the path joins the Llanberis path high up the mountain.
Route description
This path is named after an early nineteenth century mountain guide called John Morton who named himself The Snowdon Ranger. After leaving the shores of Llyn Cwellyn and crossing the railway track we come to a farmhouse, behind this building is a series of zig zags that takes us upwards until we reach a level and sometimes boggy section. Directly in front of us we can now clearly see the ridge that will take us high up the mountain today, looking behind we will see fantastic views across Llyn Cwellyn to the imposing cliffs of Mynydd Mawr. We then negotiate this ridge which zig zags steeply upwards with views in all directions, looking left we see Llanberis in the distance with Llyn Padarn behind and the remains of the massive slate quarry which is a reminder of Llanberis'  industrial past. The path now weaves its way through a small boulder field until reaching a featureless slope which eventually takes us to an upright stone which signifies we have reached the Llanberis path intersection joining from the left with the railway track parallel to it. Most of the hard work has now been done leaving us to enjoy the splendid vistas while trekking the short distance to the summit