EMAIL: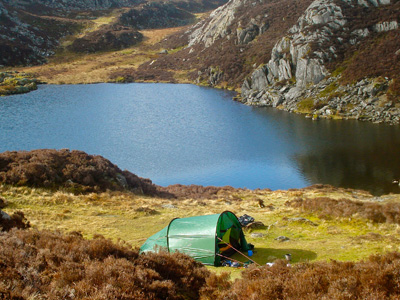 WILD CAMPING
If waking up to the natural beauty and tranquillity far from the pressures of modern life appeals to you then I would love to introduce you to wild camping. Snowdonia has many hidden gems which I have had the pleasure of discovering while trekking and camping in this fantastic region
How would you like to wake up to these  views or maybe next to a lovely waterfall or on a large plateau 850 metres high with remains of an old world war 2 plane to keep us company, the choice is yours.
If you don't feel you have the confidence or necessary skills to safely take yourself off the beaten trek for an overnight camp, or it might just be that you don't want to pay out for expensive equipment until you have had a taster of this aspect of mountain craft. This is not a problem as I can provide you with all the necessary equipment for the camp for a minimal cost. Whilst on the trek we will discuss all aspects of wild camping such as leave no trace, sanitation, tent pitching, gear selection etc. I take out a maximum of two people at once to have a minimal impact on the environment.
For more information feel free to get in touch by either e-mail or phone.